Shapeshifting: into the new normal
17 april 2020 | Mark Hoogewerf
It took me 23.5 hours to build one of my all-time favorite vehicles, 13 years ago. It took me less than 2 hours to demolish it piece by piece, recently. Why such destructive behavior? Because corona. Yeah right. Why really?
Because the time has come. Because there are opportunities for the taking. And because we are transforming. This story is a metaphor about constructing a new reality.
Because the time has come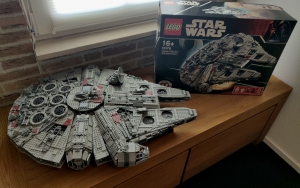 Autumn 2007, I feel like a happy little boy. I'd just bought the biggest LEGO® set ever, the 10179 Star Wars Millennium Falcon (that's the short version of the name). Almost 5,200 pieces, almost 10 kilogram of secret formula plastic (today, there's even a version of 7,500 bricks). Some people considered me crazy. How could I spend 500-odd euros on a decorative plaything? Little did we know that a sealed First Edition box would later sell for a tenfold increase. Ah, how I wish I'd bought two.
I started playing with LEGO when I was about 4 years young. At the time LEGO appeared to be just a bunch of plastic interlocking bricks and blocks. But since its inception there's an ingenious system behind it.
(For an infotaining update on LEGO concept and history, watch the Netflix documentary "The Toys That Made Us, season 2, episode 3.)
Paradoxically or not, the system and its rules drive, rather than inhibit, creativity. With each new LEGO set I collected, my universe of imagination expanded. I'd build the model, admire it, play with it – and then take it apart to create something novel. Which gave even more satisfaction.
Temporal jump to present day…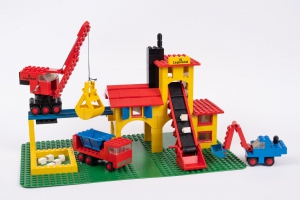 So there it was, that greebled spaceship, sitting on the cabinet for many years. Both someone else's creation and mine. It had bricks I recognized from my first "big" LEGO set from 1974, the illustrious Gravel Quarry; bricks of all sizes and shapes from the LEGO galaxy.
All of these served one purpose, one edifice. A scripted assembly, a shape set in stone. Each morning that unique saucer with two mandibles and an offset cockpit on its storage pedestal would catch my eye. Beautiful and dusty.
But it felt stale somehow. A finite construct in an infinite context. Not unlike the processes and rituals in society and economy.
Deep down, the construct didn't rhyme anymore. Didn't inspire open-ended creativity anymore. I felt an increasing urge to make a change. A symbol, I guess, of the changes we are now making in working and living.
Because there are opportunities for the taking
When I informed my two kids that daddy was going to sell the big LEGO spaceship, they responded in variations of "No daddy, no! Why? It belongs there". I said it would make somebody really happy. I said we could save the money to do nice things together later. I said to say goodbye and we all touched the knobby structure. I said "And girls, it also…", but I'd already lost them to playgame.
Letting go is often easier than we think.
I retrieved the box from its dark crypt in the attic, took 24 pictures, wrote a catchy ad text and appealed to my target audience through Marktplaats, the most popular Dutch online marketplace.
Opportunity struck once. Within a week I sold the set with a nice profit.
Melancholy struck me twice when I started taking pieces off the Millennium Falcon.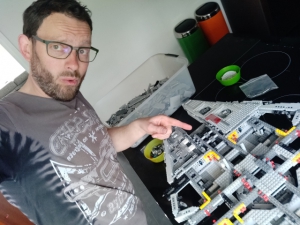 Firstly, it has adorned two houses across 13 years. And secondly, "The fastest hunk of junk in the galaxy" always brings backs memories of The Empire Strikes Back, the second instalment of the original Star Wars trilogy in 1981. I'll never forget that feeling of triumph and awe when the Falcon's hyperdrive finally works and it escapes the baddies at lightspeed. (I consider Star Wars phenomenal storytelling. How about you?)
But the emotions were brief. Just like my kids quickly stepped over the studded pieces of change I evoked, I accelerated into pragmatism. As if my hands had a mind of their own, they grabbed and pulled brick after brick after brick, making the ship come undone in a mere 2 hours and shipping off the big package.
So now tha money's in tha pocket. And I even have an upgrade option: a bigger and better version is waiting, snugly wrapped in cardboard and foil, for my decision to play either the building game or the selling game.
Ah, such freedom of choice.
Because we are transforming
This seems to be a story about first world problems. Yet it is also a metaphor for dealing with the serious issues we encounter in a world that suddenly appears to have more thorns than roses.
A world that feels alien, even dangerous sometimes. Where physical health requires social distance that is counterintuitive for our mental health. But where the people and things we cherish have become extra valuable. And a world where hopes, dreams and actions matter more than ever.
Perhaps COVID-19 is a gaian cleansing. Perhaps it's a bio-engineered viral weapon gone rogue. Perhaps it's just bad luck. One thing is certain: things will never be the same. People neither. Fortunately 65,000 years of human evolution has made us resilient and adaptive.
But once again the odds may seem against us.
So what. "Never tell me the odds", Han Solo, captain of the Millennium Falcon and one of my fiction heroes, would say.
There's an empty space on the dresser and in my mind. It feels strange. And it marks a change. A shapeshift of body and mind, into the new normal. Quite likely, the new owner of the LEGO 10179 will experience a process akin to mine.
So let's go beyond – with newfound wisdom, energy and respect. Follow the light of creativity. And keep building your living legend.